1. «Իսկ մենք քո տարիքում»: - հավանաբար բոլորը լսել են: Մենք անում էինք այն, ինչ, ըստ մեր ծնողների, նրանք անում էին մեր տարիքում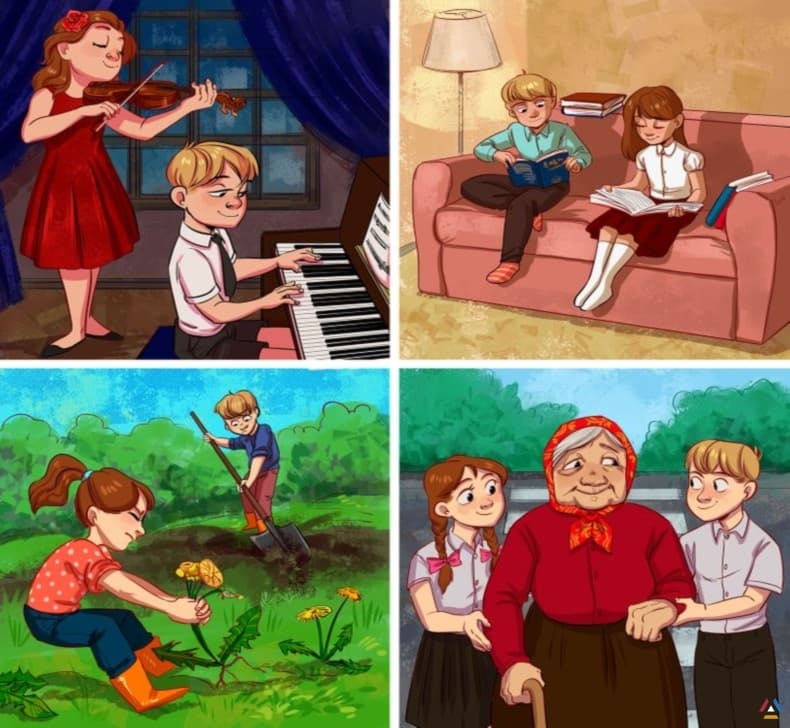 2. «Գիտե՞ս, թե մենք ինչպես էինք հասնում դպրոց»: Ի՞նչ խոչընդոտներ էին, ըստ մեր մայրերի և հայրիկների, նրանք հաղթահարում դպրոց գնալու ճանապարհին: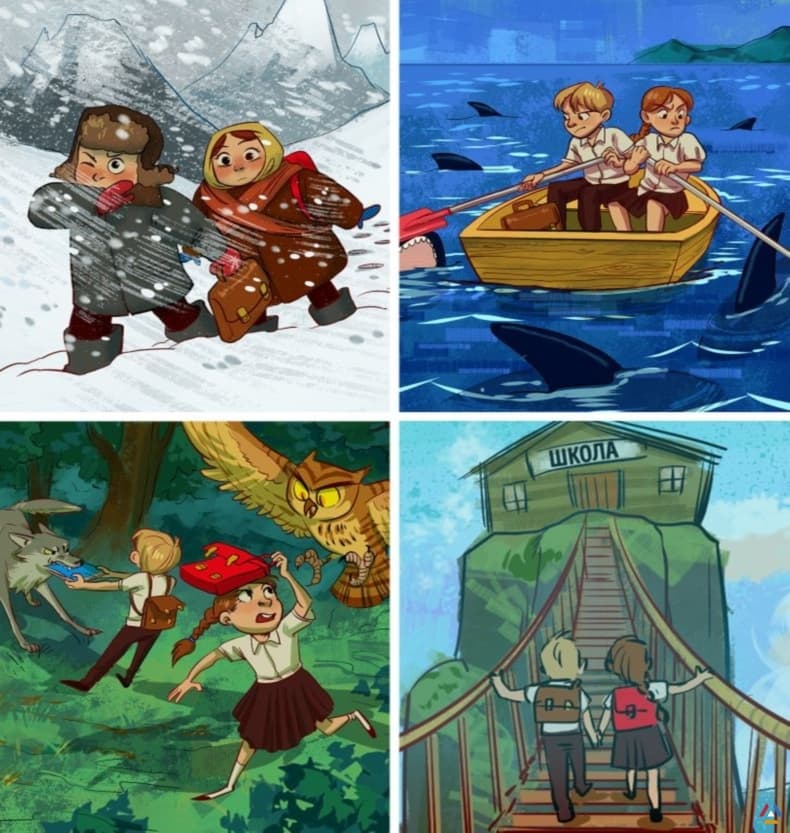 3. «Եթե ծամածռվես այդպես էլ կմնաս»՝ ծանոթ արտահայտություն է: Մենք պատկերացնում էինք, թե ինչ կլինի, մայրիկի կարծիքով, եթե ծամածռվենք: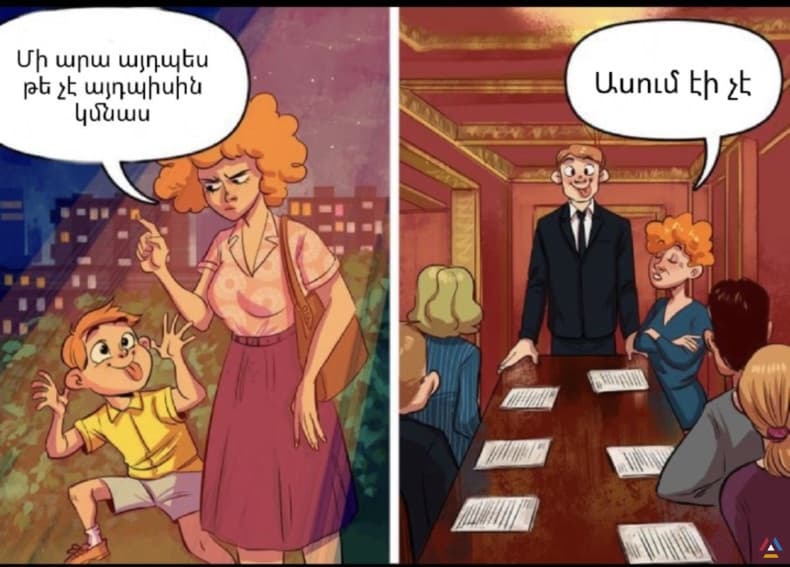 4. «Ահա իմ ընկերուհու որդին...» - բոլորին հայտնի բառերը: Պարզապես նայեք, թե ինչ տեսք ունի մայրիկի ընկերուհու որդին, եթե հավատաք նրա պատմություններին: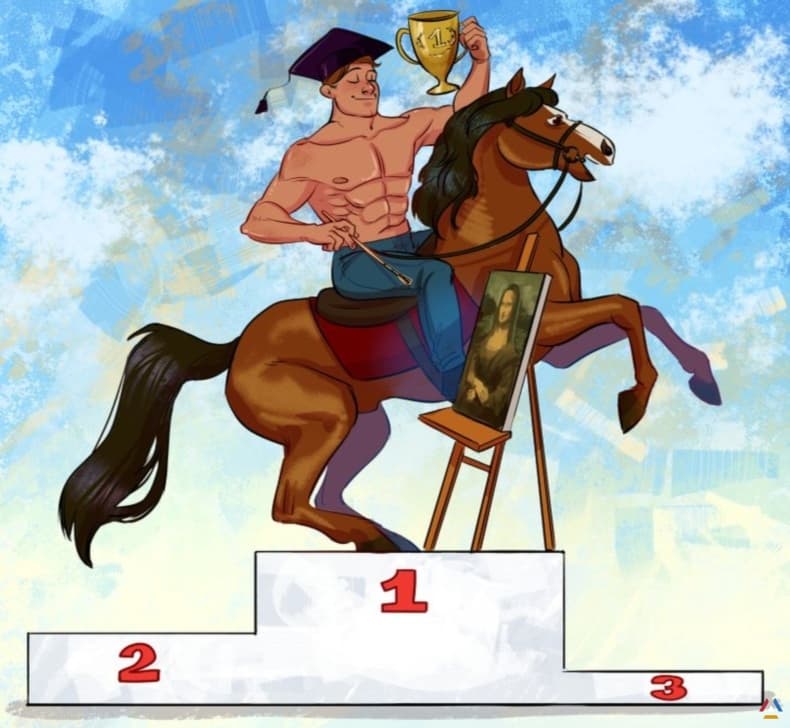 5. Հիշե՛ք այն ինչ սիրում եք «Գլխարկտ դիր»: Մենք մի փոքր երևակայեցինք. Ի՞նչ կլինի, եթե միշտ գլխարկ կրենք, երբ մայրիկը անհանգստանում է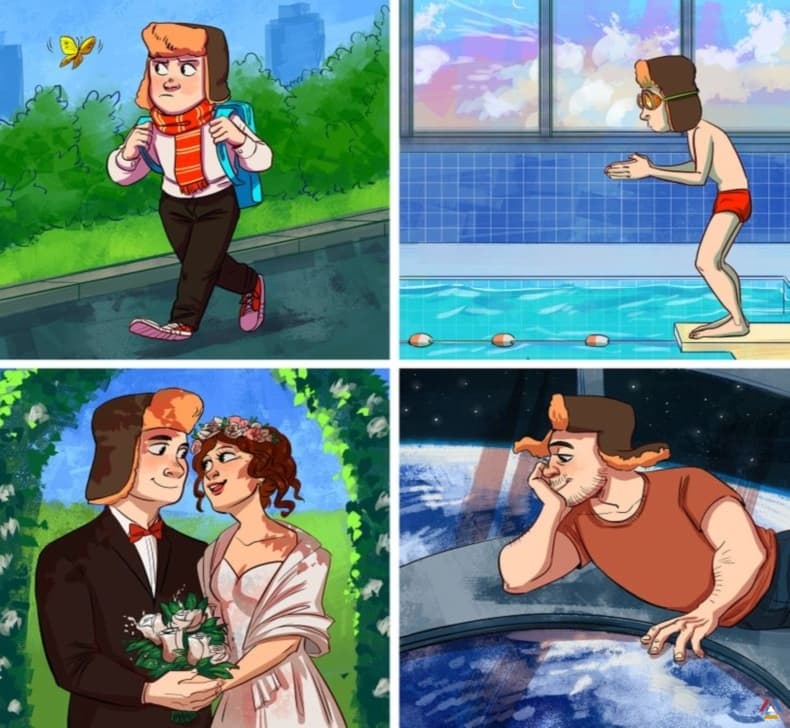 6. «Եթե վատ սովորեք, այգեպան կաշխատեք, ասում էին մեզ մանուկ ժամանակ: Ահա փորձեք պատկերացնել, թե ինչպես են մայրիկների կարծիքով, գնահատականներն ազդում ապագայի վրա: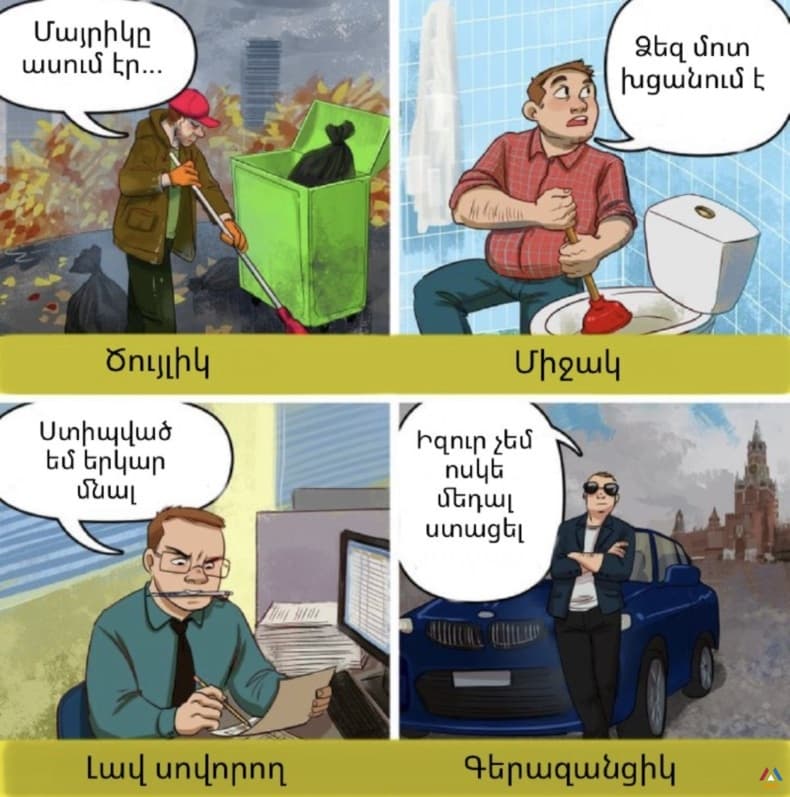 7. «Ի՞սկ լույսը քո փոխարեն Պուշկինն է անջատելու»: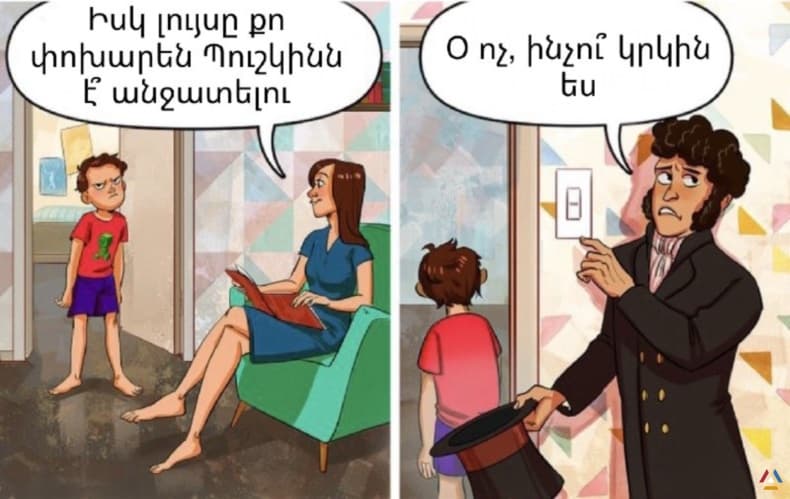 8. «Մեծանաս - կհասկանաս»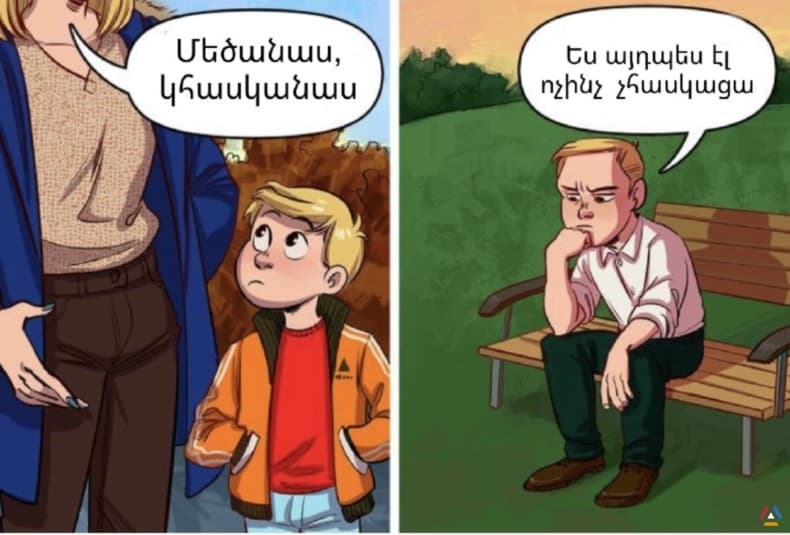 9. «Սա երբ մեծանաս կհագնես»: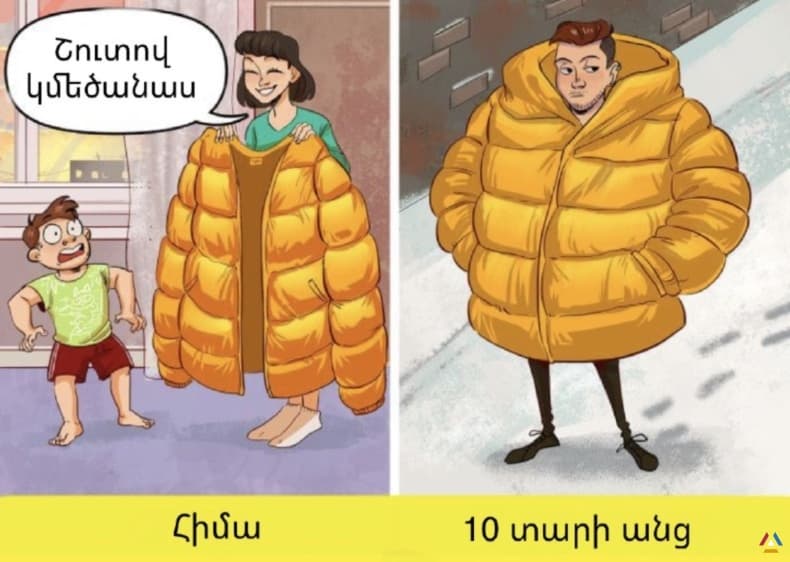 10. «Փնտրիր դա ինտերնետային կայքերում», - ասում է մայրիկը: Ի՞նչ տեսք ունի ինտերնետը ծնողների կարծիքով: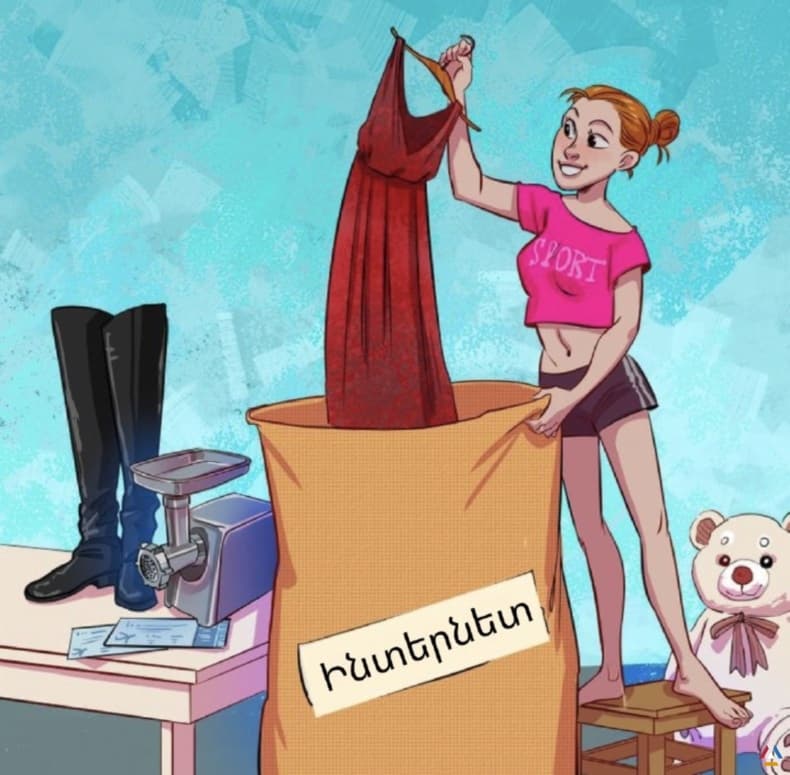 11. «Մեր ժամանակներում դա այդպիսի բան չկար»: Մենք այդ արտահայտությունը այնքան հաճախ ենք լսում, որ անհնար է չպատկերացնել, թե ինչպես է եղել իրենց ժամանակում, եթե հավատանք ծնողների պատմություններին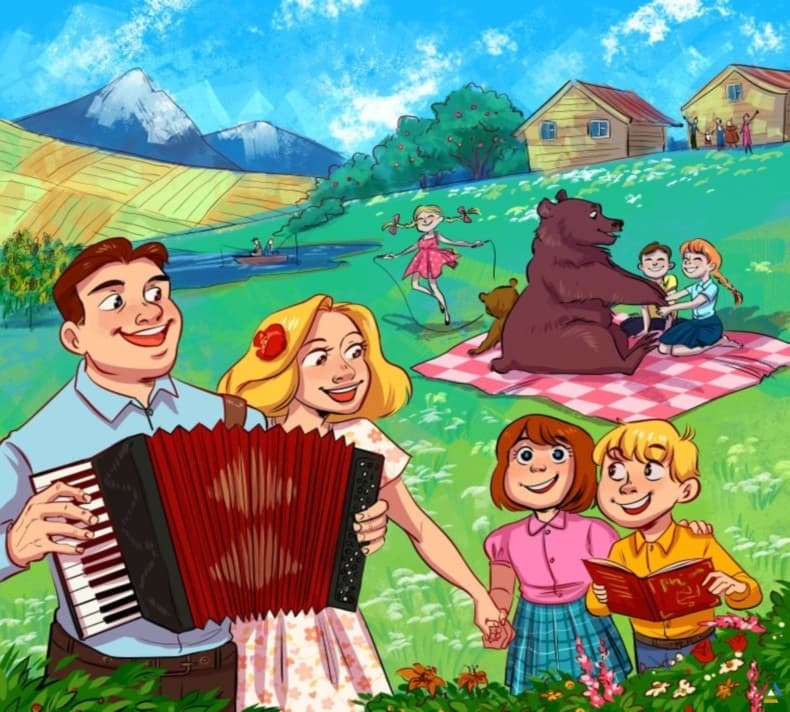 Այս արտահայտություններից ո՞րն եք լսել մանկության տարիներին: Ի՞նչ էիք պատկերացնում:
Dear visitor, if you have a minute please leave your comment about the film or series. Thank you.