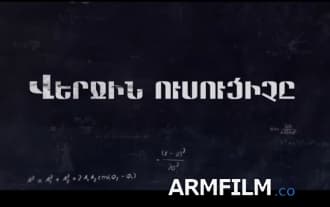 16 September
Verjin usuciche [Episode 1 Full]
Year, country:
2019 | Armenia
Actors:
Khoren Levonyan, Mkrtich Arzumanyan, Sos Janibekyan, Rafael Kotanjyan, Anna Yeghoyan, Zaven Abrahamyan, The Shak Tukhmanyan, Vahagn Martirosyan, Shogher Grigorian, Lisa Barseghyan, Armen Margaryan, Margaryan Makich, Vivien Bastajian, Antonosyan
Translation:
Original [Armenian]
Verjin usuciche Episode 1....
ARMFilm.org - Armenian films and TV series online.
Free Armenian films and TV series, songs, clips, TV programs, broadcasts, TV shows online in high quality.
All popular Armenian TV series online - Patvic aravel, Anhasce cnvacner, Debedi Gaghtniky, Tghte yerazanq, Eleni oragir, Qez het u aranc qez, Mor xostum, Jirair Glenc, Full House , Harsik and others.։
Which TV series do you like more with the participation of Janna Butulyan?