Nor Hayastan TV online - live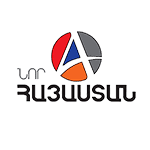 TV Daily Schedule Nor Hayastan TV.
Watch TV channel Nor Hayastan TV online in Armenian.
Watch Nor Hayastan TV channel online live
It's not always possible to sit in front of the TV set to watch the favorite channel "Nor Hayastan". But now you can watch it online anywhere where you have access to the Internet, on your tablet, phone, laptop or other device. Our site has all the conditions for free watching of the popular Armenian TV channel live, which is very comfortable for its fans from all regions of Armenia and abroad.
Many of our users have already valuated their benefits.
1. Access to your favorite channel anywhere, anytime.
2. The ability to watch the Nor Hayastan TV channel for free from any device.
3. Live watching and excellent quality.
4. A great opportunity not to depend on the TV set or a TV operator.
Watch your favorite movies, TV shows, news, sports, entertainment and other television shows in transport, relaxing in nature, during work hours and at other convenient times. All you need is to visit our website, select the Nor Hayastan TV channel and start watching it live and in good quality. And all this is absolutely free, because we make the television of Armenia as accessible as possible for all its residents and guests.