Shoghakat TV online - live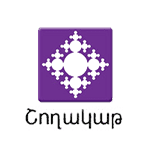 TV Daily Schedule Shoghakat TV.
Watch TV channel Shoghakat TV online in Armenian.
Watch the Armenian Shoghakat TV channel online
Great news for all fans of the Armenian Shoghakat TV channel in Armenia and abroad - now you can join its audience at any convenient time. And for this it is not necessary to sit at home in front of the TV screen. With us, your favorite TV channel has become available anywhere and from any device.
If you have a phone, tablet, laptop or other gadget and access to the Internet, you can start watching the channel online, as soon as you wish or have free time. All conditions are created on our website for that, and we offer to watch Shoghakat TV for free and in good quality.
What we offer you
1. An excellent opportunity to watch the Armenian Shoghakat TV channel and at the same time not depend on the TV or the operator.
2. On our site you can watch your favorite channel online live and absolutely free.
3. High quality watching on any device.
4. The ability to watch favorite TV serises, movies and TV shows anywhere and at a convenient time.
With us you can watch your favorite channel anywhere - on travel and on vacation, in nature and during work breaks, in transport and even in line to spend time with your trip or waitings.